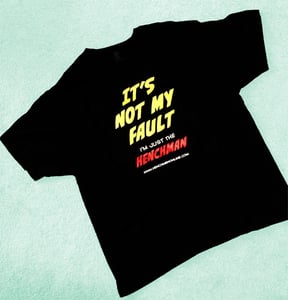 $

20.00
Absolve yourself of all responsibility for whatever misdeed you may be accused of! Get your own "It's Not My Fault I'm Just the Henchman" tee shirt and put the blame on your evil boss where it rightfully belongs!
All tee shirts are Hanes Comfort Soft 100% cotton, and they come in a henchman-appropriate black color. The text is high-quality screen print in bright yellow, red and white. Available sizes are men's cut S,M,L, XL and XXL.
Get yours for only $20.00 plus $5.00 shipping and handling.